Back
Attract top kitchen talent through an inclusive culture
No matter your background or identity, in the kitchen everyone shares the same goal. However, it's important to establish an inclusive workplace culture, otherwise you risk excluding great talent and setting your employees back. We spoke to 7 hospitality experts on how they build rich teams by creating a safe, fair and welcoming environment for all.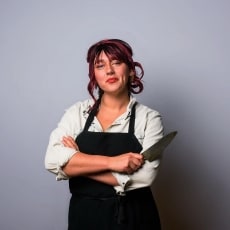 Start with your selection process
Chef Kiah Gibian is co-founder of Our Time Kitchen, a shared kitchen in Baltimore supporting minority women and marginalized groups of people who want to build food businesses. Our Time Kitchen's goal is to create sustainable businesses and build equity.
"There needs to be change to hire for diversity. Maybe it shouldn't be a resume that you submit to get an interview - maybe it's a trial or you show your Instagram profile to show the food that you've cooked. There's a tonne of different things that are just so ingrained in how things are done but that aren't questioned because the majority of the people holding the power all look the same."
Make new hires feel welcomed and valued during onboarding
Andy Aston is Head of Wellness and Nutrition for BaxterStorey and Wellness Ambassador on Craft Guild of Chefs' 2021 committee. He regularly hosts wellness labs for chefs, with the purpose of educating and inspiring teams and collaborating with industry friends.
"Onboarding is the most important time for establishing company culture and retaining staff. It's vital that new employees are given a roadmap with clear directions and goals. That first three months in any business is the scariest time, so be with them every step of the way. Make them feel part of what is going on and make them feel comfortable. Let them know what to expect and what they can achieve. It really sets the standard for you as an individual and for your business."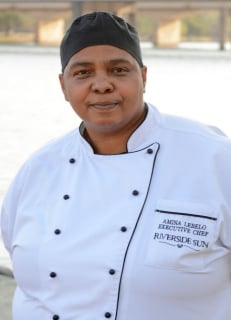 Treat people as individuals
Chef Amina Lobelo became the first black female Head Chef in South Africa at the Sandton Towers Intercontinental. Now, she's Exec Chef at the Riverside Sun Hotel.
"I run a very diverse team and each team member I deal with differently because I know their character. If I give instructions, I give them according to each person's strengths and always tell them that feedback is part of development. I am strict on many things - hygiene, waste, presentation - and I am very strict on general team communication because I like togetherness. But we have jokes, we dance, we sing, because you need to be happy at work."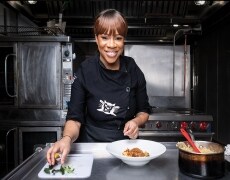 Create an accessible workplace
Chef Catina Smith hosts food events through her company Culinary Socialist, and has curated a calendar called Just Call Me Chef which highlights black women chefs. She is also co-founder of Our Time Kitchen.
"It's all about access. Through Our Time Kitchen, we're creating access for people who are usually marginalised. People who might not feel there's space for them in kitchens and entrepreneurial communities. From making everything wheelchair accessible, to hosting bilingual cooking classes and having sign language interpreters available, and thinking about intersectionality - that's a big thing for us."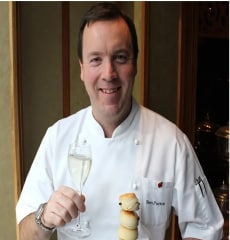 Give people a chance
Chef Ben Purton is Culinary Director at hospitality recruitment company Off to Work. He works with and mentors students from schools and colleges, running master classes and arranging work experience opportunities to help them develop.
"Everyone deserves a chance. If I hadn't been given a chance all those years ago, I wouldn't be in this industry. Take a really good look at every individual you can because there's a role for virtually everyone, we just need to find the right fit for them."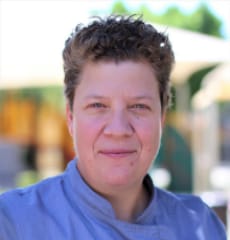 Be patient
Chef Dina Altieri is Director of Culinary Enterprises at UMOM New Day Centers, a community-based culinary training programme. She has spent her career working on making kitchen spaces feel more equitable than the ones she grew up in. 

"Just be patient. Try to remember how many years ago you yourself were a learner. What gave you anxiety or made you panic is only going to be more of a trigger to a student that is in that situation and especially a student who is facing a multitude of barriers. They are going to need a little bit more time to overcome some of those stressors. If it was stressful for you, just be mindful of how stressful it is for the individuals under your care in that training mode."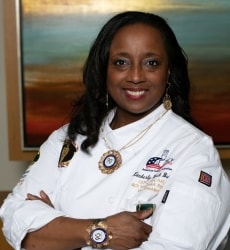 Representation matters
Kimberly Brock Brown is the first female President the American Culinary Federation (ACF). She runs her own business as owner and corporate chef of Culinary Concepts, LLC.
"If you have a desire to do something, you'll usually find a way to do it - regardless if you see somebody has already done it. But if you do see somebody, it just makes it that bit easier and burns the fire that bit harder to get there and do it yourself.
"It can set a lightbulb off in your head, saying 'maybe that's possible, I didn't think that I could' but you've also got to have a little heart yourself, to put yourself outside your box and get uncomfortable."