Back
Celebrating women in the industry: 7 chefs share advice for the next generation
Women remain underrepresented at the highest levels of this industry, but at the same time we know that there are many inspiring female leaders working to make kitchens fairer, healthier and more inclusive.
We spoke to a few women we know from different parts of the industry to hear more about the experiences that shaped where they are today and their advice for the next generation of leaders.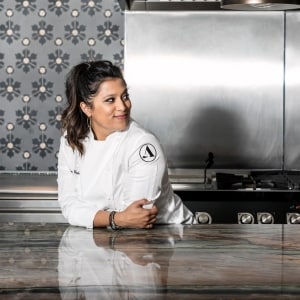 Sabrina Gidda, Executive Chef at Allbright
With a degree in Fashion PR and Marketing, Sabrina took an unconventional route. Working as a waitress while studying, she stepped in for a chef who was off sick and realised she'd found her calling. After working in hotels, gastropubs and contract catering she's now Executive Chef for an all-women's networking club.
"At Allbright, I get to craft my brigade a bit differently. We have women balancing childcare, women returning to work and I make it work around them. It's lovely to be living those ideals that we all fight for to make sure there is space for women in this industry."
How have you found being a woman in the industry?
"I've not come across much negativity around being a woman but I have had people say I don't look like a chef. For me it is a great asset. I have always believed in being myself – my whole self. This is how I work best, and how I lead best."
What advice would you give the next generation?
"The key is to work hard. If someone tells you no, make it a yes. Always work for yourself, to develop yourself.  Hold yourself to your own standards."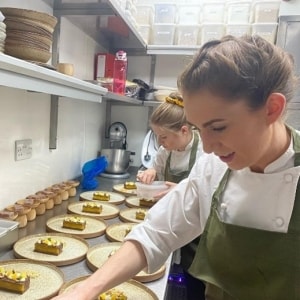 Ruth Hansom, Head Chef at the Princess of Shoreditch
Ruth completed an apprenticeship at The Ritz and stayed for five years before she started entering competitions. She's received many awards and was a BBC Great British Menu Finalist in 2020.
How have you found being a woman in the industry?
"When I won National Chef of the Year, there was a lot of publicity but I didn't know if people were celebrating because they were happy for me, or because I was a woman. I was obviously proud but also, I felt I'd won just like anyone else.
It was weird to be singled out. But if it inspired other women in some way that's a good thing."
What advice would you give the next generation?
"We need to talk about the different paths within hospitality to encourage more women into this career. My advice to upcoming chefs is write everything down and ask again if you're not sure. Show you're keen and people will be willing to help."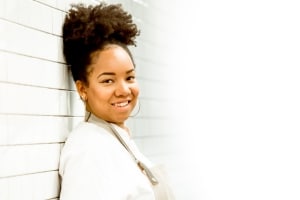 Michelle Trusselle, Chef and Founder of Myristica Supper Club
Michelle knew she had a special relationship with food from an early age. Over the years she's trained in some of London's best known establishments and is a MasterChef: The Professionals 2018 Semi Finalist. She now hosts a monthly Supper Club with menus reflecting her Caribbean heritage.
"My preconceptions of hospitality were that it was fast-paced, 'shouty' and it would take time and dedication to progress, but for my love of food I was willing to put the work in. After many years in restaurants I had a son and it came to a point where I could no longer do the 60-80 hours a week."
How have you found being a woman in the industry?
"I didn't realise how male dominated the industry was until I started working as my college, Westminster Kingsway, was so diverse. I learnt quickly that I needed to find my own voice and push back on certain things such as where I wanted to be in the kitchen, otherwise I wouldn't get where I wanted to be. Women are just as worthy of their place and ability in the kitchen as their male counterparts – learning to show the team what I stood for and where I wanted to be helped me get where I am today."
What advice would you give the next generation?
"I'm lucky, I carved out my own path with Myristica. I definitely wouldn't say I have it perfect now but it feels right. My advice to anyone in the same position is to trust that you will get there, and, if you don't find what you need, don't be afraid to make it for yourself."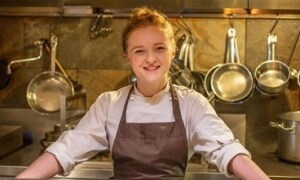 Amber Francis, Senior Sous Chef at Bermondsey Larder
Amber gained experience in the industry whilst still studying at school by completing stages in some of the UK's most well-known fine dining establishments. She trained with the Royal Academy of Culinary Arts at The Ritz where she completed her apprenticeship. She is now Senior Sous Chef at Bermondsey Larder and volunteers with community projects in her free time.

How have you found being a woman in the industry?
"One of the interesting things I've found about being a female chef is the public's preconceptions of it. I've experienced guests being surprised that it is a woman leading the kitchen that day. It comes as a shock to some, but that brings with it an opportunity to challenge perceptions and stereotypes."
What advice would you give the next generation?
"It is a tough industry and there may be barriers you come up against, no matter your gender. If we didn't love our job, we wouldn't be in the industry. But, that's the best part; the people that work in food and hospitality do it because they love it, we are hugely passionate about this career and want to share that with others. If you find yourself struggling, ask for help, ask questions. People will listen and want to help. We are a family."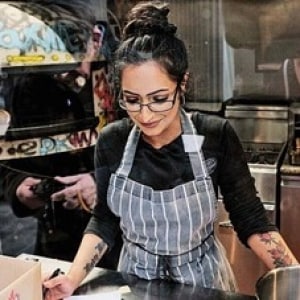 Simmie Vedi, Chef de Partie at Pasture
Searching for a career path while feeling uninspired studying law, Simmie asked her dad to teach her to cook and never looked back. She got her first kitchen job in 2016, learned from a classically trained French chef and moved her way up.
How have you found being a woman in the industry?
"I've mostly worked in all-male teams, and can tell you they're not all the same. Many kitchens are really good environments. Lovely people, and managers who know how to build a team. Then there are those where you get too many strong personalities and old school chefs, which is where bad behaviour can come in. 
"There are some amazing role models out there for young women now, people like Asma Khan. The way she treats her team, making every employee feel welcome. It makes a huge difference." 
What advice would you give the next generation?
"My advice to those considering this career would be to realise all the options. It's not just being a chef, going through the brigade system, though you can do that if you want. There's food styling, consultancy, development, so much out there. I just wish it was included in career's advice. Professional cooking can lead to so many wonderful things."
Photo Credit: Kevin Moore Street Photography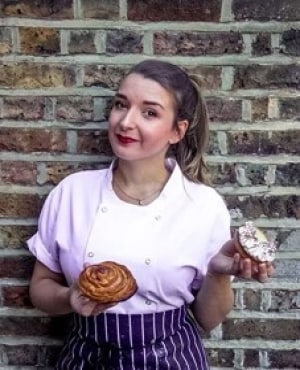 Clarisse Flon, Chef & Founder of The Sunny Spoon
Clarisse is classically trained in French patisserie. After working in many fine dining restaurants, she went on to open her own  vegan French patisserie.
How have you found being a woman in the industry?
"In my first Head Chef position, I was young and it was hard to be taken seriously as a female chef. Some people had an issue with me being their boss and were disrespectful.
"I've found when you're a woman in the kitchen, people wait to see what your work is like before they give you their respect. When I launched my vegan patisserie, there was a lot of coverage and excitement that it was a woman doing it - almost like they were waiting to see if I was successful."
What advice would you give the next generation?
"Young chefs out there should know that if you work hard, you deserve to be here."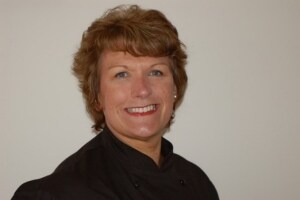 Alison Cullin-Woodcock, Director at Clifton Foodservice Consultants
Alison worked in hotels and contract catering as well as commercial culinary solutions, before setting up her own FoodService consultancy.
"I knew hospitality would be hard but I've had some amazing experiences. I was part of the support culinary team at the International Gastronomic Competition Bocuse D'or, and became the first female to run a global kitchen for the company I was in at the time, heading a team of 50 chefs and 10 kitchens."
How have you found being a woman in the industry?
"As a woman, I have found you have to prove yourself to be taken seriously. When working in the US I lost count of the times people made appointments to see the Chef, then walked straight past me – even though I was in full whites. You just have to rise above it."
What advice would you give the next generation?
"My advice would be to know more than you think you need to know, this gives you the edge. Say yes to every opportunity, and remember, you're never too senior to clean the floor or dishes!"